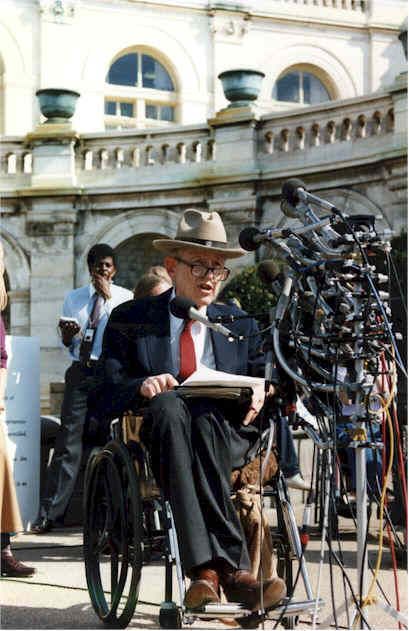 For Justin Dart, Jr., there was no such thing as taking the obvious path in life.
Born in 1930 to a wealthy family (his grandfather had founded the famous Walgreens pharmacy chain), Dart spent the early years of his life struggling to find his place a self-described "super loser" in a family of "super winners." A life-threatening bout with polio at the age of 18, however, changed everything: Though he lost the use of his legs, Dart re-emerged from the hospital inspired by the lessons in love and empathy he had received from people as varied as family and friends to the recently deceased Mahatma Gandhi. After earning his bachelor's and master's degrees at the University of Houston, Dart traveled to Japan in 1956 to start that country's first Tupperware.
What started as a tiny business of three employees quickly morphed into a bustling enterprise of 25,000 workers. Unlike most, Dart made a deliberate effort to employ people with profound disabilities, sometimes going into institutions to find hires. He even organized Japan's first wheelchair basketball team! Despite his success, Dart found himself at another major crossroads after a sobering visit to a Vietnamese "rehabilitation center" for children with polio in 1966. Horrified by the severe neglect he witnessed there, Dart and his wife, Yushiko, resolved to give up their business and devote themselves full-time to the cause of disabled people's rights.
Dart returned to Texas with Yushiko in 1974, and the pair soon began to make a name for themselves in the local disability activist community. Dart eventually worked his way up to the National Council on Disability, serving as vice president. All the while, Dart and his wife were going from coast to coast, collecting the stories of people suffering from discrimination and lack of opportunity due to disability.
These stories, collected by the Darts on their own dime, would form the basis for the Americans with Disabilities Act (ADA), a landmark piece of legislation that forbids discrimination against people with disabilities in all areas of life, from employment to schools, transportation, and more. On July 26, 1990, George H.W. Bush signed the Americans with Disabilities Act into law on the Whitehouse lawn, saying: "let the shameful wall of exclusion finally come tumbling down." Dart was on the stage beside him.
Dart continued to gain recognition for his extensive advocacy work, earning the Presidential Medal of Freedom—the nation's highest civilian honor—in 1998. He also continued to fight for the ADA, which often came under attack by Washington politicians who viewed the act as a drain on resources. His health declined in the late 1990's, and he died in 2002 at the age of 71. Resolute to the end, Dart spent his final years composing a statement calling for renewed commitment to justice and civil rights for all. "As with all of us the time comes when body and mind are battered and weary. But I do not go quietly into the night," he wrote. "I do not give up struggling to be a responsible contributor to the sacred continuum of human life. I do not give up struggling to overcome my weakness, to conform my life - and that part of my life called death - to the great values of the human dream."